High School Musical
Hello everyone, today I have came with news about the High School musical.
The High School Musical will be held at Arvada High School in the school Auditorium, Tomorrow April 7-8 at 7 p.m and April 9 at 5 am. Tickets are $12 dollars for adult, $10 for students, for Senior are also for 10, and children around 6-12 years old will be $8 dollars (under 6 are for free).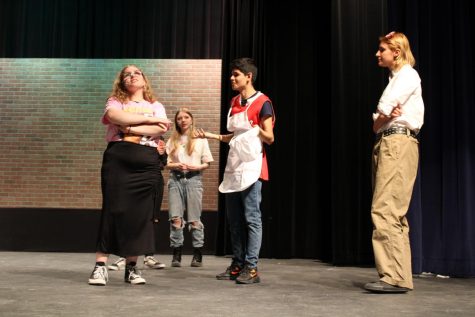 I have interviewed 3 student members from the High School Musical, Hector Galavis, Anja Waage, and Cailet Reynolds. They were very happily to open up for some questions.
These questions are about how and they decided to join for the Musicals and a little about them. Most of these students are freshmen.
First off is Hector Galavis, a freshman playing as Zeke Baylor will be asked questions regarding the show for tomorrow and other details.
What made you decide to be in the High School Musical? Back in the first semester usually around December when I saw the auditions happening I decided to give it a shot to play The Bad Actors.
Are you very dedicated to being in the High School Musical? Absolutely, there is a reason why I'm here. For the entire week we have been practicing staying here for the Musical till 7:30 so if that's not dedication I don't know what it is.
Are you going to be nervous for the show? I know, really. I never displayed any kind of fear for the first play, I always ask myself that.
Is this your first time being in a Musical? Yeah!
What is the process for practicing in here? From January till now we went through the lines of each of the characters including through music songs we also went with working on choreography of the scenes for instance the scenes that you would see of u dancing, That took a lot of process but we started learning this somehow. The process is very delicate and it takes a lot to master even from many months till now from where we probably should be now. But not everything is perfect.
Would you say that you get along with the people that you are practicing with? Well yeah! Many of these people that I am working with are some of my close friends of mine. There are times that we get frustrated at one other but we don't pull at each, we get along.
Do you say it is fun being in the Musical? It's fun for some certain people, for other people who are lets say forced into this probably isn't that fun. But for those who actually have high passion for either singing like actively chose to be a part of this I could say it is fun. There are times where it's very stressful at each other but reason why we come back  cause it's not really easy to forget the fun parts of what we did.