Boys Soccer's Seniors Take Home Field One Last Time in 3-1 Win against Sheridan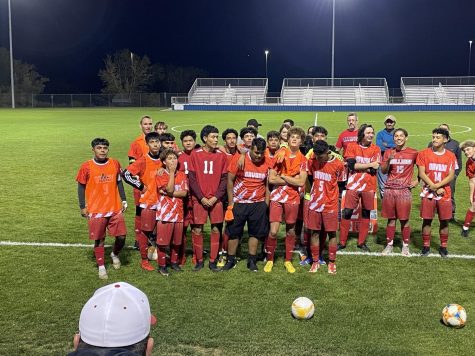 Boys soccer won their first match of the season 3-1 against Sheridan on Tuesday. The celebration coincided with senior night as well.
From the beginning of the game, the entire team made many pushes. Senior striker Jackson Kowing made several unsuccessful attempts at the start of the first half. The Bulldogs remained scoreless for the first 10 minutes, but so did Sheridan.
Thanks to a penalty kick by Kowing at 15 minutes the Bulldogs were able to score.  Senior Defender Carlos Sandoval worked hard to prevent Sheridan from scoring, and after Sheridan committed another penalty Sandoval was able to score the second goal.
Sheridan got there first and only goal ending of first half,  defense pushed hard to not get scored on but mistakenly allowed sheridan to get by.
At halftime seniors of the team were honored by the rest of the players , family, and friends as they walked down the field. They were also given a chance to walk with foreign exchange student Mattia Fabi from Italy as his family was unable uncompany him to his last home game. The soccer team was honored to be his family for the night.
"I felt really emotional because I thought I was gonna be walking alone because my family couldn't attend," Fabia said. "When I saw my teammates come up with me it was so much joy and I wanted to cry.
In the beginning of the second half, striker Fabi got the final goal by dodging Sheridan players in his way. They maintain the lead until the end of game leading to the bulldogs winning.