The Goalkeeper Speaks
As the Bulldogs are preparing for their home bout against Bennet on March 29th, I was able to catch a few words in an interview with the Junior goalkeeper, Laura Munoz. I asked her a few questions about the team's overall morale, mindset and ways they have been working hard to keep getting better.
 The first question I asked her was about how the team was feeling about their upcoming match against Bennet. Munoz stated, "I think the team is doing well. We know how to fix our mistakes when we make one and know how to forgive each other. Our chemistry is really good and we can trust each other". 
I then asked the junior how the mindset of the team was. She said, "Our mindset is great. Even after the first game loss, we had high hopes for the next one and ended up getting a win. So I think we just need to stay positive." 
The final question I was able to ask Laura was what she thought the team needed to work on. The goalkeeper said, "Communication. We need to yell each other's names when passing the ball and get our voices loud." 
Laura and the entire team seem very determined and ready to stack up the wins. We can all see how much the game means to them and how badly they want to prove themselves. The Bulldogs are 1-1 on the season and plan to make that 2-1 against Bennet. Let's go Bulldogs!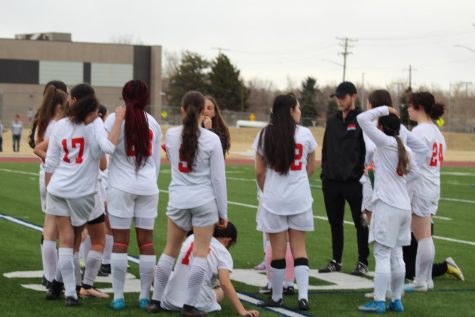 Photo By: Aleksis Baca