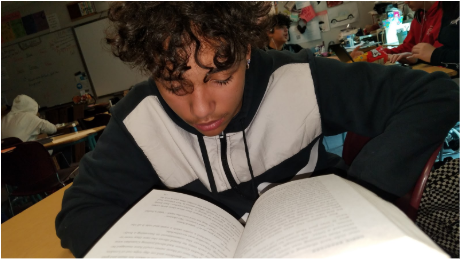 Many varying classes and levels are participating in a semester-long book project. While every class has a slightly different project, according to English teacher, Tabitha Lopez, her goal for all of them is the same.
"Independent book projects force you to think critically about a book and show interest in other novels," Lopez said.
Lopez made a list of novels that her students can pick from which allows them to be more independent and passionate about their project.
"I am excited to read the book and make an interesting project about it," freshman Julian Rojas said, "I love that we are allowed to pick what book we want to do and that makes me even more excited to read it."
Yet, some students are still unhappy despite the choice involved with the book projects. Freshman Louie Cordova expressed his lack of excitement.
"With all the new projects, I think it'll be hard to be doing a big project and then multiple little projects… What's the point?" Cordova said.
Berlyn Whitlock, a freshman, is another student who thought there was too much work involved with the projects and sees little reason for the overload.
"I like English a lot but we have so many projects and I think it distracts us and doesn't really allow us to dive deep into the book and explore it more," Whitlock said.
Teachers are encouraged to give students more projects because the school is switching to Project Based Learning.
"There are a lot of projects we are doing right now, but Ms. Lopez always gives us work time in class to work on them," Rojas said. "Sometimes we will have homework but it's never overbearing."
These projects will help students to develop a better understanding for reading, especially for students that didn't enjoy reading at the beginning of the year. Lopez is dedicated to encouraging her students and to help them find their love for reading.
"A lot of students tell me they've never finished a book before," Lopez said. "I want them to have a positive experience with reading."