A Homecoming Game with History
The tradition of homecoming games originated from colleges and universities in the early 19th century. It was used as a way to celebrate the return of alumni to their alma maters. Since then the tradition has spread to other colleges and universities and later to high schools. Hence Arvada football games have been a continued tradition of spirit and celebration since 1922. 
Various activities are held during Homecoming week: there is a cookout hosted with all the students, the girls powder puff game, the Homecoming rally, and the Homecoming football game. Each event is used to hype up the students for the Homecoming dance.
"It made me really sad but I saw a lot of school spirit," senior Liam Bailey said. "This year at this game the mass amount of spirit and support really showed."
The 2018 Homecoming game against Englewood High School this year had a great turn out in the students, staff, and players. Although the football team didn't get the win, there was a real mass amount of strong support coming from the Arvada crowd.
"The turn out was really good. The crowd definitely helped us," senior Xavier Guzman said.
The football players worked extra hard the week of Homecoming by watching films and practicing everyday. According to Guzman, the team went over all the different play styles.
"Overall we played well but not well enough," Head Football Coach Rod Allmon said. "I want them to get better- be better- but no doubt the spirit was there."
Like all the other years, whether it was wearing face paint, performing, or just wearing school colors, all Arvadans from cheerleaders to staff members did their best to encourage the team on the field.
"It felt like there was a lot of school spirit," Security Nina Russell said. "I was impressed that all of you guys came together as a school and helped support the football team for homecoming."
The football games are an important part of the school's culture. Many students are eager  to do what they can to show support. Arvada is a small school, so it's important that students are able to come together as one.
"Since it's my senior year, it's something I'll look back on and remember," Bailey said.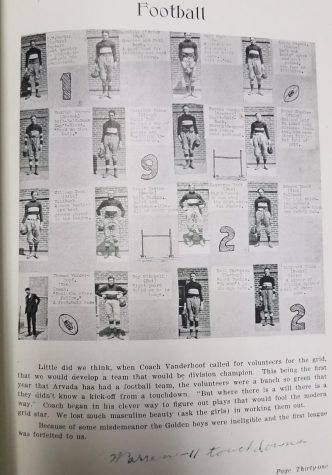 The Arvada football team from 1922.