6 Places to Postmates from during Stay at Home
Like everyone, we're sure you still want to eat out on some days and have some restaurant food like we could when we could still go out. Postmates is an app that pays drivers to pick up the food you order from places to deliver to you once you order with a small delivery fee depending on the place you would like to order from.  Here are the top 6 places I recommend to order from Postmates.
1. Pho Dong Huong
If you love Chinese food and have been craving it since the pandemic started this is a great place to order from. Everything there always fills me up and leaves me satisfied for a very reasonable price! My favorites here are the Grilled Beef Spring rolls with peanut butter sauce for $5.50 and the Pho Tai Bo Vien, which is rare steak and meatball with noodles, for $8.95 depending on size.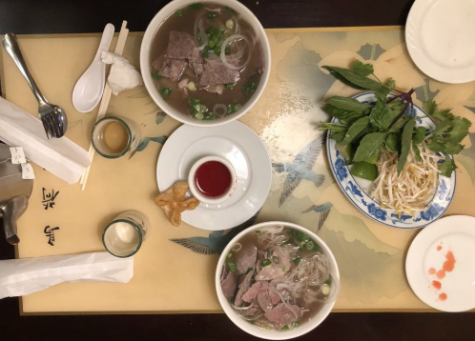 2.  Sunrise/Sunset
Ever feel too lazy to get out of bed in the morning to make your own breakfast? Well this restaurant has high quality home-style type breakfast food with an addition to having lunch foods with a variety of different choices guaranteed to start your day off the right way with a filling meal. They have many savory foods that are so delicious but my all time favorite thing from Sunrise/Sunset is the Italian Sunshine for $13.49!
3.  Just BE Kitchen
Now, if you are avoiding gluten, Just BE Kitchen is filled with a great selection with gluten-free foods that taste no different from something that has gluten! I never thought I'd like anything that wasn't bad for me, but this restaurant changes my mind. Now I've only visited once, but I absolutely loved the Cozy Chicken and Dumplings for $10.00.
4.  Five Guys
This burger joint is the perfect place to order from if you're looking for a good greasy meal to satisfy you. Although on the pricey side of the spectrum when it comes to burger joints, Five Guys is well worth it and you can get high quality shakes! I live right down the street from a Five Guys and it's a blessing and a curse because of house good this burger joint is, any of the burgers or sandwiches are a recommendation because they are customizable to put what you want on them. Make sure to get a shake on the way out, strawberry is always a good flavor, but there many more options for $5.29!
5.  La Pasadita
La Pasadita is a Mexican food restaurant and my favorite Mexican food restaraunt I've had that has a wide variety of selections including soups, seafood dishes, burritos, and much more to choose to satisfy you up! If you're looking for something smothered in goodness and deliciousness, I recommend getting the La Pasadita Chimichanga, for $7.95.
6. Grocery/Convenience Stores
Now I know that this isn't a restaurant, but you can also use Postmates to pick you up something from Safeway or other convenience stores. That makes it so much easier to limit public interactions and practice social distancing.
Happy ordering and stay safe during quarantine!